Secrets – A Novel Recipe – Chocolate Pecan Pie
In my novel, Secrets, food plays an important role. It brings my main characters, Toni Bec
ker, Stacy Holbrook, Dorothy Chaney, and Mary Beth Truesdale, together and allows for social interaction and conversation.  And of course, don't forget the wine!
But think about it…socializing and enjoying good food and wine allows people to relax. A lot can happen at dinner parties, so make sure to pay attention because you never know how those interactions might lead to clues about a character's personality and of course, THE MYSTERY.
So why not have a "Secrets" dinner party enjoy some yummy chocolate pecan pie for dessert?
Give this recipe a try. It's a combination of my own recipe and one you can find on Allrecipes.com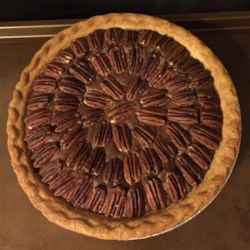 Chocolate Pecan Pie
Ingredients
2 squares unsweetened chocolate or 1 cup semi-sweet chocolate chips
2 Tbs butter
1 1/4 cups sugar, reduce to 3/4 cup if you're using semi-sweet chocolate chips
3 large eggs
1 tsp vanilla extract
1 1/2 cups pecans, lightly chopped in a food processor
1 recipe pastry for a 9 inch single crust pie or a pre-made pie crust
Directions
Preheat oven to 350 degrees F (175 degrees C).
In a medium saucepan, combine chocolate and butter and over medium heat. Stir continuously until chocolate chips or squares of chocolate melt and sauce is smooth. Remove from heat. Stir in eggs, vanilla, and chopped pecans; mix well. (Use whole pecans to decorate the top)
Pour mixture into pie shell and bake on bottom shelf of oven for 40 to 45 minutes. Serve cold.